Oven cleaning service in London
We believe your time is valuable and it's far better to reach for professional help, instead of trying to turn your elbows into grease-wiping and gunk-scrubbing machines. Get our oven cleaning in London and don't waste your whole weekend scrubbing your cooker with steel wool and solvents which leave an unpleasant odour.
A service that comes with many tasty benefits
Your appliance is in safe hands. The oven cleaners are well-trained, vetted, and will do their best to restore the shine of your cooker. And with all the burned-on carbon residue eliminated, it is absolutely sure that your food will taste better!
But this is not everything. There is much more:
Only professional degreasing detergents are used, each product is non-toxic and bio-degradable;
When performed regularly, you prolong the life of the appliance;
You will lower the energy consumption which will reflect on the bills;
It reduces the risk of smoke and kitchen fire;
Smal repairs are done upon request – replacing light bulbs, filters or seals;
Better tasting meals your family will appreciate;
Note: When you book the post-tenancy cleaners, you get this service for free, as part of your end of lease cleaning!
What to expect from the professionals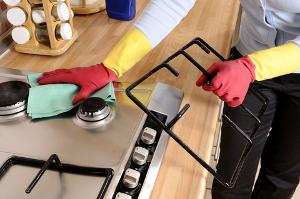 They will sanitise both the exterior and the interior of your cooker by using only the most effective, eco-friendly and non-toxic cleaners available out there.
Regardless of when was the last time since you have cleaned it, they will still cut through all the grime and crust. There is no need to wait after the procedure, because the solutions we use won't leave any sort of toxic film on the surface.
So, this is how the procedure usually goes:
The technician arrives and begins with an inspection of the oven in order to identify any issues. Then he proceeds with disassembling of racks and doors.
Next, he will deeply scrub the interior while the disassembled parts are soaking in a tank of heated water-based solution, a method also known as the dip-tank method, which removes stains and burns without harming the surface.
Before the unit is put back together, its exterior is also thoroughly cleaned from grease and dirt.
The technician places a teflon mat on the bottom of the oven which prevents food bits, grease etc. to stick on the freshly cleaned appliance.
The procedure ends with a test to ensure that it is working well and there are no surprises.
Know your appliance better
In order to provide you with the most accurate quote, we need to know the type of your appliance. If you are not sure what yours is, see the table below:
Number of doors
Number of burners
4 burners
5 burners
5+ burners
1 door
Single
Single wide
Single
2 doors
Double
Range cooker 90 cm
Range cooker 90 cm
2+ doors
---
Range cooker 100 cm
Range cooker 100 cm
Now when you know what your appliance is, you can check our prices which start from £63.
Many solutions for all of your cooking appliances
We've performed this service for domestic and commercial clients and there isn't a unit which the experts can't handle -- Alpha cookers, Rangemaster, AGA Ranges, Smeg, Rayburn to name a few.
They'll do a great job on single and double ones and microwaves, as well. Owners of self-cleaning units can also benefit from this professional service even though their name suggests more rare procedures.
Many of our customers combine their oven treatment with professional carpet cleaning or with a visit from our one off cleaners!
Frequently asked questions
Q: Who is responsible for providing the detergents?
A: We are. We will carry all the equipment and detergents. Some of the equipment is quite heavy, so we carry it with a vehicle. However, we kindly ask you to provide us with a space for parking during the service.
Q: How much time does the service take?
A: It highly depends on the type of your unit and the amount of grease and dirt that has accumulated over time. However, on average, a deep cooker cleaning will take a couple of hours. Note that if you have included cleaning of your appliances, the service may take longer.
Q: My stove is quite expensive, what happens if you break something?
A: All cleaners are trained to maintain and clean a variety of appliances, in different price categories. Yet, if this does happen, you shouldn't worry – every technician is insured.
Q: What is a Teflon oven liner?
A: This is a non-stick teflon coated mat that can be placed on the bottom of the oven, directly on the oven racks or on the BBQ grills and protects the protect the bottom of the appliance from building too much grease and burned bits of food while grilling. The best part - as our customer, you get the teflon liner for free.
Have more questions? Please visit our FAQ page or contact us to get answers!