How to Extend Your Carpet's Life
You've probably spent a big amount of money on your floors, including the carpets. You could have gone on a holiday or have bought two modern gadgets.
Still, you have made your home more eye appealing, with cosy carpets! So, it is no wonder to think of ways how to extend their life.
At the Go Cleaners team of professionals, we know that synthetic fibres dominate as a material used for the making of carpets – polyester, nylon, olefin and etc.
Unless placed on stairs, these synthetic fibres do no wear out, they just become a not so pleasant sight. Not only that, but the fibres flatten out, they crush or mat down, or simply get scratched.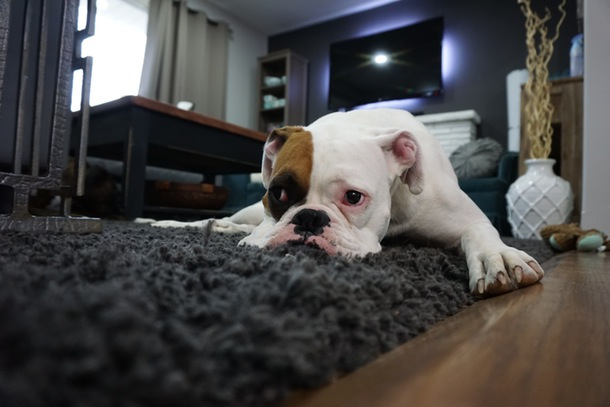 The answer to why carpets scratch lies in the gritty soil, and sand left.
When we walk on them, the soil and sand rub against the fibres and damage them. Although you could clean the rest of the soil and sand, the damage done is… undone. The experts in the carpet cleaning industry call this traffic lane grey. Those areas are the nightmare for both households and expert carpet cleaners.
So, what measures you could take to prolong the life of your carpet? See below!
Get a suitable pad
Pads can extend the life of your carpeting along with giving you more comfort underfoot and better resilience. Since most of the carpets come with a warranty and requirements about density and thickness, check your warranty before buying a pad. Make an informed choice and buy the one suitable for your textile floor covering.
Position mats, both inside and outside doors
Every door in your house must have an outside mat made from a material that is strong enough to fight mud and other debris, and an inside mat that should have absorbing qualities in order to catch the moisture. Make sure you clean the outside mat regularly because, on a muddy day, it won't catch much of the dirt if it is already dirty – it can even make things worse. The inside mat should be small and light enough to let you regularly wash it in your washing machine.
Vacuum your carpets frequently
Your best chance to prolong the life of your piece and keep its comfort and durability qualities high is to vacuum them once in a while. And by once in a while, we mean twice per week or more often if you have a big family or pets around. This is extremely helpful for the areas called high-traffic lanes.
Another good idea is to groom them – it helps to control crushing and matting, and allows the vacuum cleaner to suck the dirt that is stuck in the base of your piece. If your schedule doesn't allow you to perform a regular vacuuming, consider hiring cleaning services.
Keep your vacuum cleaner in a good shape
It only takes half of the bag to be full for your vacuum cleaner to become inefficient.
So, when you reach the moment where your bag is ½ full with dust and dirt, it is time to change it.
One more thing, give the brushes an inspection once in a while.
Get your carpets professionally cleaned
Call the professionals to clean your carpet at least once per year, or even more if you have pets. The hot water extraction carpet cleaning method, also referred as steam carpet cleaning, is the most efficient way to revive your piece.
It is suggested for items made of synthetic fibres or wool. Alternatively, for delicate pieces, you can use carpet dry cleaning.
Note: Hot water extraction cleaning does not equal steam cleaning, Pressurised hot water extraction is far superior to regular steaming.
As with most things in life, we wait for the soiling of our carpets to become clear, until we do something about it. What is harming them the most are the abrasive particles which are stuck to the carpet fibres caused by oil residues. These remaining particles are literally everywhere.
Thing is, they always settle down and our textile flooring represents the perfect spot for them to do it. There is no vacuum cleaner that can help you when these particles are already on the carpet. They make the soil stick to its' fibres making it almost impossible to clean.
For all passionate rug lovers who want to clean their pieces DIY, please see how you can clean them using natural ingredients.
Retreat your carpets after a deep cleaning
Treat your carpets with soil and stain resistant products after a deep cleaning. You may have bought your piece as new, and as such, it comes with some type of stain-resistant treatment. Thing is, no treatment lasts forever and over time its effectiveness reduces.
Retreat your items after each professional carpet cleaning to make sure they are protected against stains and soil. For example, Scotchgard is the carpet protector which the Go Cleaners professionals are applying after each procedure.
Remove spots quickly
Most spills, still not each one of them, can be removed if you react quickly. This can be challenging if you were not around for a few weeks. Still, the longer is the period in which the spill is on the carpet, lesser is the chance to remove it without damaging the fibres.
Just like with your suede furniture, you should treat it when you see it!
Control the direct sunlight
Keeping your carpets away from a continuous display to direct sunlight is crucial. Think of placing blinds or shades. Go for light coloured carpets for the rooms that are most exposed to the sunlight to minimise the fading effect. You can find more on this topic here.
Move furniture around so the carpet can breathe
Rotate your furniture to change the traffic patterns in your home. Other than giving you a new sense of your room, moving furniture will help you avoid pile crushing. Also, carpet protectors help to distribute the weigh across the carpet – use them under the legs of chairs, table or other furniture.
Keep your carpet safe when moving furniture
Every now and then we have to move the wardrobe or piano around. If your furniture has wheels, place thick cardboard between its wheels and the carpet. You can find more tip and tricks in this post.
Conclusion
Now you know what steps you must take in order to increase the life expectancy of your beloved carpet. Good care always pays back. The average lifespan of a carpet piece is nearly 7 years, but with good maintenance, you could increase that period up to 10 years. Just remember, keep doing regular weekly vacuuming and call for a professional cleaning at least one time per year.